Specialist in inherited diseases, Dr. Christopher McMaster, named Scientific Director of the CIHR Institute of Genetics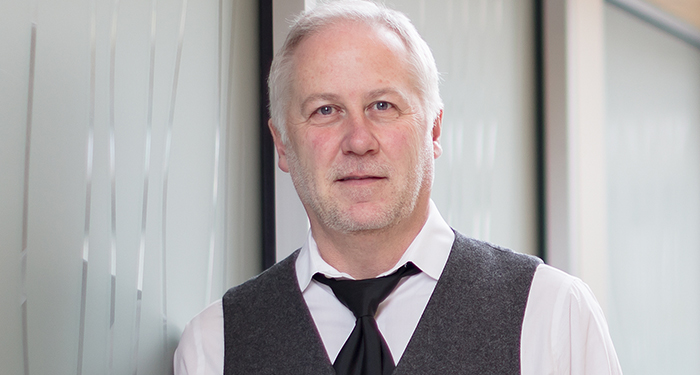 Dr. Roderick McInnes, Acting President of the Canadian Institutes of Health Research (CIHR), and CIHR's Governing Council, announced today the appointment of Dr. Christopher McMaster as the new Scientific Director of CIHR's Institute of Genetics. This appointment will be effective July 1, 2018.
Dr. McMaster was the professor and head of the Department of Pharmacology at Dalhousie University, and director of the Cheminformatics Drug Discovery Lab, which uses sophisticated software to design new drugs.
He is also the co-founder and CEO of DeNovaMed, a biotechnology company that uses computer-aided design to drive the development of new classes of antimicrobials to address the global health threat of antimicrobial resistance.
Dr. McMaster's research interests range from basic biochemistry and cell biology to genomics. He has identified a potential therapy for congenital sideroblastic anemia, a disease which occurs when the bone marrow fails to produce a sufficient number of healthy red blood cells. He is also developing treatments for familial exudative vitreoretinopathy, a hereditary disorder that can cause vision loss, and for inherited Parkinson's disease.
As Scientific Director, Dr. McMaster will work with his community to identify research priorities, develop funding opportunities, build partnerships, and translate research evidence into policy and practice to improve the health of Canadians and people around the world. As a member of CIHR's leadership team, he will participate in setting and implementing CIHR's strategic direction.
Quotes
"I congratulate Dr. McMaster on his appointment as Scientific Director of the CIHR Institute of Genetics. He has a truly outstanding record of research in the fields of biochemistry, yeast genetics, rare inherited diseases, and the development of novel drugs. I know that he is well positioned to continue IG's tradition of unwavering support for capacity-building and strengthening the many research communities that the Institute serves."
- Roderick R. McInnes, CM, MD, PhD, FRSC
Acting President of the Canadian Institutes of Health Research
"I look forward to working with and supporting Canada's genetics community. Canada has a rich history in training and conducting world-class genetics spanning basic, translational, clinical, and outcomes research. There is substantive momentum across all areas that the IG will seek to further foster and grow."
- Christopher McMaster, PhD
Incoming Scientific Director of the CIHR Institute of Genetics
"The appointment of Dr. McMaster to the prestigious role of Scientific Director is a testament to his significant accomplishments as a scientist and leader in his field. His innovative research has had a key role in shaping the future of genetic science in Canada and around the world, and we are proud to have a researcher of his caliber part of the Dalhousie University community."
- Dr. Alice Aiken
Vice-President (Research), Dalhousie University
Quick Facts
The CIHR Institute of Genetics (IG) supports research on the human and model genomes and on all aspects of genetics, basic biochemistry, and cell biology related to health and disease, including the translation of knowledge into health policy and practice, and the societal implications of genetic discoveries.

1 in 15 Canadians is born with a rare disease, so-called because they affect only small group of patients and families. Most of the world's 6,000 to 8,000 rare diseases are genetic.

IG spearheads two of CIHR's most prominent initiatives: Personalized Medicine, which is stimulating the discovery, testing, and translation of biomarkers, targets, and genomic signatures for disease prevention and treatment, and the Canadian Epigenetics, Environment and Health Research Consortium, which is supporting the burgeoning field of epigenetics – the study of changes in the regulation of gene activity and expression through the interaction with environmental factors.